The eco Complaints Office has been fighting illegal content on the Internet since 1996. It is embedded in the system of regulated self-regulation and has, in particular, the task of improving youth protection in the Internet.
Every Internet user can report suspicious content that is harmful to minors or is prohibited, free of charge and anonymously.
The lawyers of the eco Complaints Office then check whether the reported content violates German law and take appropriate measures if necessary.
In dealing with complaints, the eco Complaints Office concentrates on youth media protection and related criminal offenses. In particular, we handle complaints related to the following illegal Internet content:
Crimes against sexual self-determination, in particular freely accessible adult pornography, and pornography depicting violence, animals, children, or juveniles
Dissemination of anti-democratic or Nazi propaganda
Incitement of the masses
Invoking or incitement of crime
Depictions of extreme violence
Support or advertising of criminal or terrorist groups
Youth-endangering and development-impairing content
In addition, the eco Complaints Office also deals with reports on unsolicited sending of advertising emails and newsletters.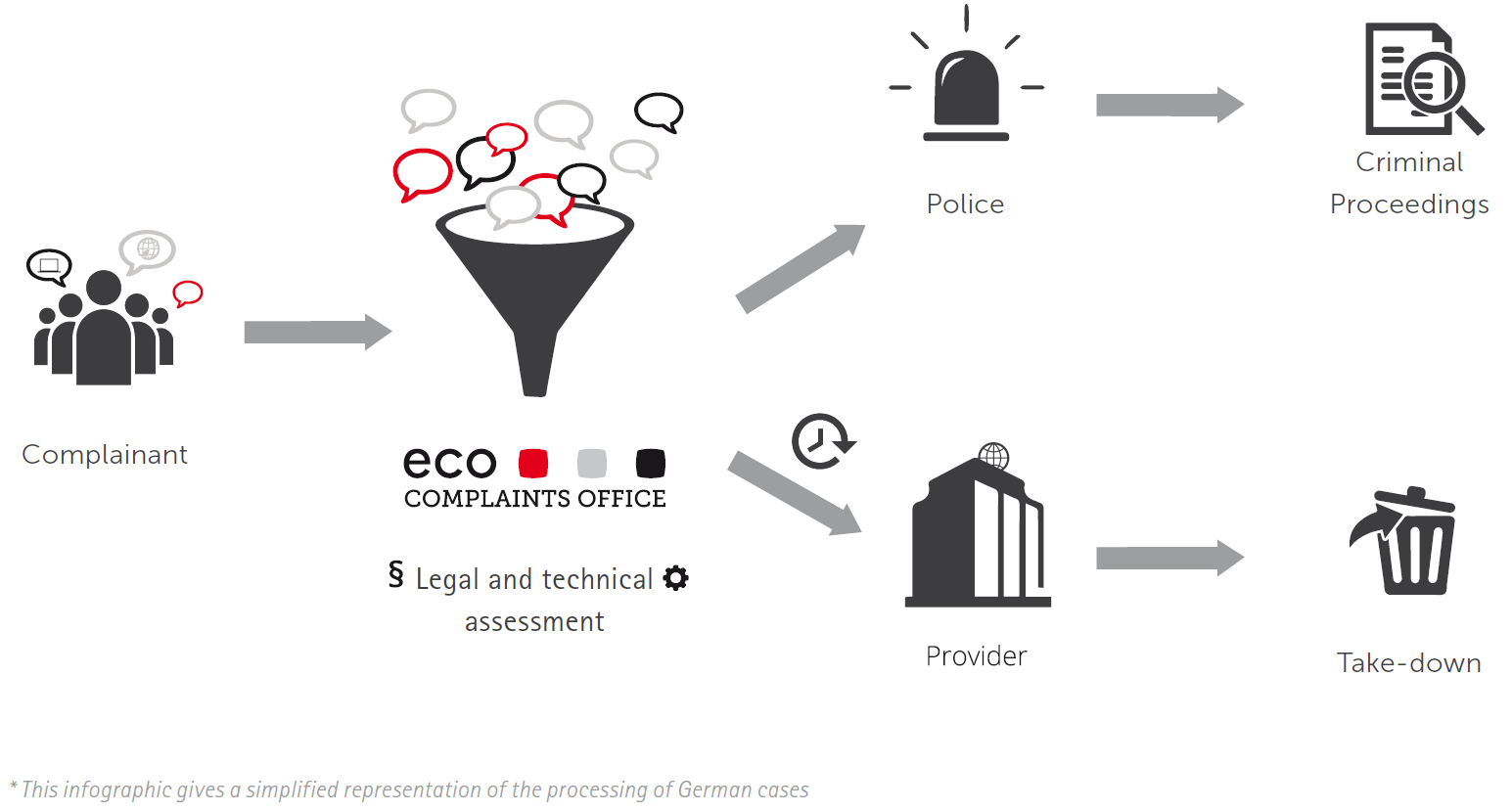 After a thorough assessment of the content, action is taken depending on the severity of the offense and the location of the server (in Germany or in other countries):
Punishable content hosted in Germany is always reported to the authorities. In addition, the Complaints Office asks that the hosting provider makes the relevant data available to the law enforcement agency on request and takes appropriate measures to prevent further access to the illegal content. Should absolutely prohibited Internet content be hosted in Germany, the eco Complaints Office asks the hosting provider to take the content down (disconnect). For other youth-endangering or developmentally-impairing content, the provider will be required to ensure that the content is made legally compliant.
Content hosted abroad is initially forwarded to the appropriate INHOPE partner hotline. This hotline then takes over the further processing of the complaint, with the objective of removal or legalization of the content and also works "locally" with the responsible law enforcement agency. If there is no INHOPE member in the country where the server is located, or if the content reported does not fall within the mandate of the INHOPE partner hotline, eco will contact the hosting provider directly. In addition to this, criminal content hosted abroad is also reported to the authorities, if the given content is punishable internationally or is subject to universal jurisdiction as foreseen in the German Criminal Code.