The youth protection officer has three functions:
Advisory service for the provider
Contact person for users
Point of contact for official oversight
Youth protection on the Internet is a task for society as a whole. With the eco Youth Protection Officer Service, you have the opportunity to make your contribution to this cause. Certain telemedia providers may also be obliged to appoint a youth protection officer in accordance with Section 7 of the German Interstate Treaty on the Protection of Minors in the Media (JMStV).
The youth protection officers themselves must be appropriately qualified. Violations of Section 7 JMStV are a serious offense and can be punished with a fine of up to EUR 500,000.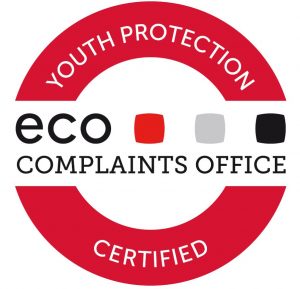 With the eco Youth Protection Officer Service, the eco Complaints Office is happy to support you in the implementation of this obligation or in the voluntary appointment of a youth protection officer, and offers:
Comprehensive consultation on matters relating to youth protection
A neutral point of contact between you and your users
A minimization of liability risk
Prevention of official fines and written warnings
An increase in user trust through effective youth protection
Current information and updates on developments and legal changes in the area of youth media protection
A service tailored to the type of provider
A seal of quality / logo for your website
Take advantage of the extensive experience of the eco Complaints Office in the evaluation of online content in the field of youth media protection and the involvement in an international network.
Contact: jugendschutzbeauftragte@eco.de