44.9 per cent of men and 32.5 per cent of women state that women have a lower interest in technology and IT
34.8 per cent of Germans believe that women are deprived of technical competence. This is the view of 41 per cent of women, but only 28.5 per cent of men
eco has established an initiative to promote Women in Tech
Women have little interest in IT and technology: This is an opinion actually still held by almost 40 per cent (38.6 %) of Germans. A survey conducted by the market and opinion research institute Civey on behalf of eco – Association of the Internet Industry, which asked for reasons why the proportion of women in IT professions is so low, came to this conclusion.[1] 44.9 per cent of men are of this view, but just 32.5 per cent of women. More than a third of Germans (34.8%) believe that women are simply being deprived of technical competence. This is the view of 41 per cent of women, but only 28.5 per cent of men. The third most cited reason, at 32.8 per cent, is the lack of promotion for women in the field.
"Computer science and digital skills must be integrated into school curricula throughout Germany so that girls can develop their enthusiasm and talent for tech topics as early as possible. This is where we already see a deficit in schools, which can perpetuate itself long-term in the value chain", warns Oliver Süme, Chair of the Board of the eco Association. The shortage of skilled workers is striking. By the end of 2022, the German labour market alone would be short of a record number of STEM (science, technology, engineering and mathematics) professionals, amounting to a 326,000 deficit.[2] This shortage of employees with advanced digital skills is a major cause of setback of digital transformation in EU Member States. "Companies now need clear strategies at top management level to significantly increase the share of Women in Tech", says Süme. In the Digital Economy and Society Index (DESI), 2021, 55 per cent of EU companies stated that they have difficulties recruiting ICT specialists.[3] According to Süme, the causes of the gender gap in the Internet industry can also be attributed to flaws in digital education, to traditional role models, and to the absence of career placement.
Overcoming stereotypes
Traditional stereotypes and external assumptions regarding skills block the path to a successful career in tech for girls from an early age. For example, ten times fewer girls than boys consider taking up a technical profession at the age of 15.[4] "We need a rethink across society so that more women find their way into the tech industry in the future. Business, politics and educational institutions must work together to initiate and promote this rethinking. We need educational offers and initiatives such as our #LiT – Ladies in Tech initiative, so that girls and women discover and seize the diverse career options in tech and IT for themselves", adds Lucia Falkenberg, Chief People Officer at the eco Association and DE-CIX. Education plays a key role on the path to more gender diversity in the IT industry. This is because gender stereotypes are sometimes nurtured at home and in schools from an early age and have a long-term influence on career choices. In order to create effective changes, a joint effort of all actors from business, politics and civil society is therefore needed.
eco promotes Women in Tech via the #LiT – Ladies in Tech initiative
In spring 2019, the eco Association founded the "#LiT – Ladies in Tech" initiative, which offers female specialists and managers in the digital economy and digital professions a platform for exchange. With this initiative, the association wants to make women in the Internet industry visible and to give them a voice. With the participation of strong partners from business and society, the initiative is committed to making women from all digital disciplines more visible, to promoting their active participation in shaping digital transformation, and to counteracting the shortage of skilled workers in a sustainable manner.
More on the #LiT – Ladies in Tech initiative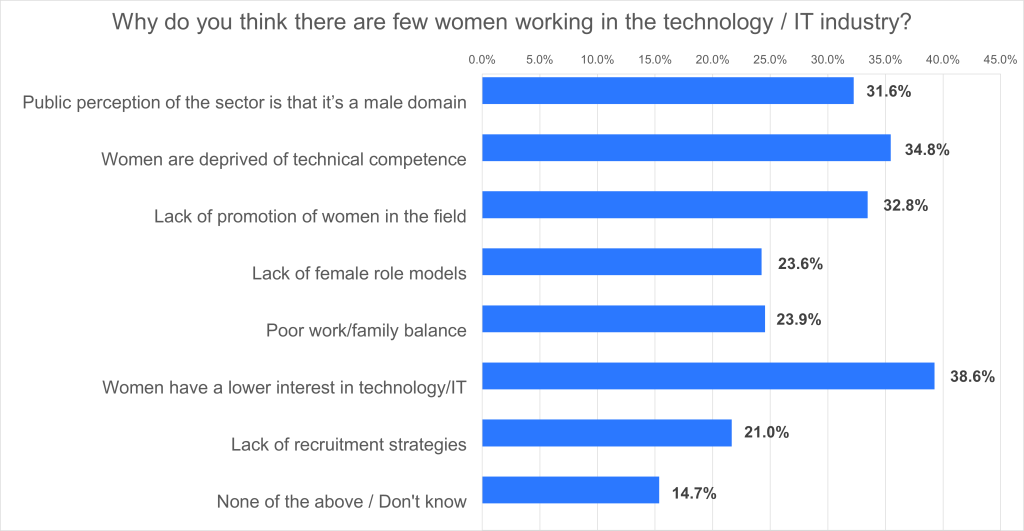 1 On behalf of eco, the market and opinion research institute Civey surveyed 2,500 people between 15.02.22 and 16.02.2023. The results are representative of the inhabitants of the Federal Republic of Germany aged 18 and over. The statistical error of the overall results is 3.6 per cent.
2 Anger, Christina / Betz, Julia / Kohlisch, Enno / Plünnecke, Axel, 2022, MINT-Herbstreport 2022. MINT sichert Zukunft, Report for BDA, Gesamtmetall and "MINT Zukunft schaffen", Cologne
3EU Commission Digital Economy and Society Index, November 2021
4 OECD report, BRIDGING THE DIGITAL GENDER DIVIDE INCLUDE, UPSKILL, INNOVATE