In focus: Digitalisation and data use as drivers of sustainable, innovative and multimodal mobility solutions
With exciting developments such as mobility hubs, real labs and other projects, the city of Munich in Germany is showing how digitalisation and the use of data can play a central role in the transport revolution. On this basis, around 30 experts and decision-makers from industry, society and politics discussed possible drivers and concrete measures for the mobility transition at the Mobility Talk in Munich on 24 October 2022. The event was organised by eco – Association of the Internet Industry together with the Mobility Data Space.
Mobility will become smarter and more connected in the future. Data is at the centre of the digital transformation. Data generation as well as access to data and its cross-sector use is the key to future mobility solutions. Car manufacturers, mobility service providers, local and long-distance public transport as well as energy suppliers are part of the solutions and innovations in the mobility sector. Data-based innovations can bring essential and concrete benefits to citizens. Among other things, they enable better transport and environmentally friendly urban planning. Digital infrastructures form the basis of intelligent transport and a functioning mobility system.
Data use for mobility as a sustainable ecosystem
Mobility is increasingly offered and accepted as "Mobility-as-a-Service" solutions. This requires data, the exchange of data to optimise the use of mobility offers, analysis of real-time data, connected service platforms and powerful digital infrastructures. In addition, the trust and participation of citizens are needed to create a mobility ecosystem that meets the needs of users.
At the Mobility Talk in Munich, Michael Schäfer, Managing Director of the Mobility Data Space, raised the question, "Are we in a data crisis? The question cannot be answered unequivocally. There is already enough data available to realise data-driven mobility in the mobility sector. However, the data is not shared or made accessible or connected accordingly. For example, the Mobility Data Space is already technically very advanced as a data space, and this also includes various use cases. "But the best data space is of no use if companies do not make their data available," says Dr Andreas Heindl, project manager of the Mobility Data Space.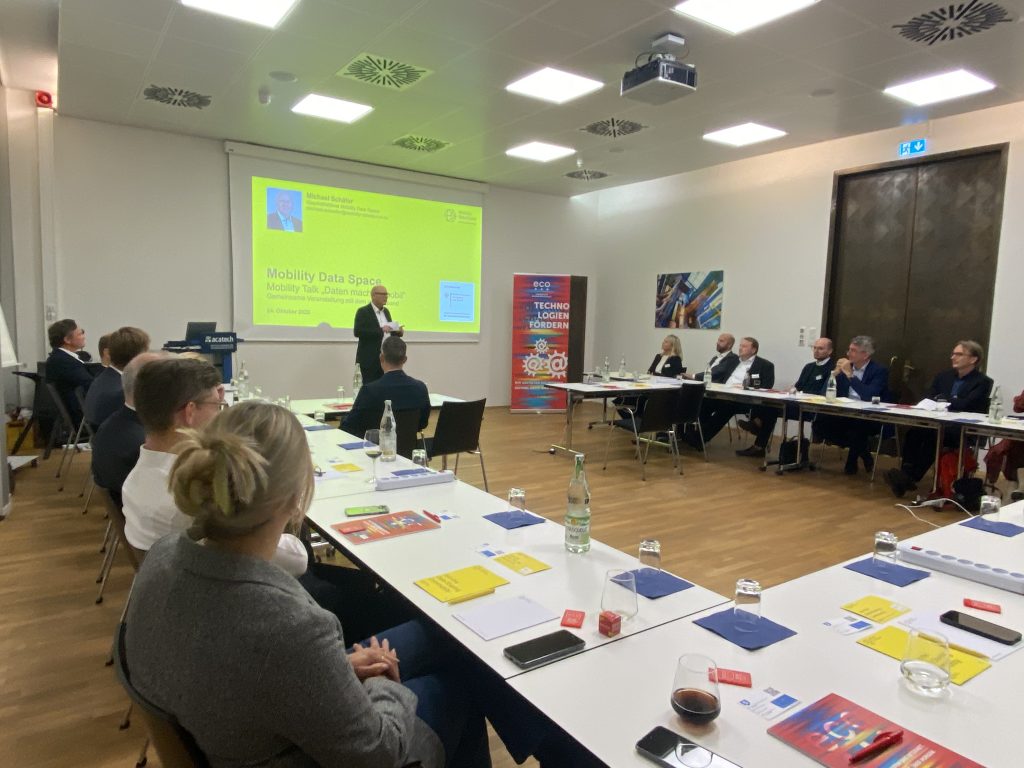 We have to think about long-term perspectives in order to jointly shape the mobility of the future. Data is an essential building block of the mobility industry. In this context, the mobility sector is an important driver of digitalisation and education on data sharing must continue in order to tap into shared potential.
Driving the mobility revolution forward
The mobility sector is facing a number of challenges, particularly with regard to the mobility transition:
Sustainable mobility
Accessibility
Data sovereignty
Data sharing
Connected mobility
Charging infrastructure and e-mobility
Already applications such as:
    Mobility platforms that map mobility chains
    Data-based fleet management
    Use of traffic data for route planning
    Sensor technology to detect free parking spaces, to curb parking search traffic
    Pilot projects on demand-oriented mobility in rural areas
are focused on the mobility transition. The goal must be the networking of data for all areas of the mobility sector. And an understanding that not just data, but services are linked with each other. Only in this way can the mobility transition be advanced via applications and services.
From a monomodal transport orientation to a sustainable mobility ecosystem
For over 100 years, the car has shaped mobility and promised freedom, flexibility and individuality with its strong monomodal transport orientation. However, this orientation is no longer in keeping with the times and no longer covers today's mobility needs. In the future, mobility can only function as a sustainable ecosystem in which different means of transport are connected with each other.
Mobility is part of the provision of public services and must also be thought of in this way in the course of the mobility turnaround. The discrepancy between supply and access must be eliminated. This is also reflected in the relationship between data and its accessibility, provision and shared use. In addition to companies in the mobility sector that do not deliver their data, do not share it or do not use its potential, citizens and their needs must also be increasingly involved.
According to a survey by eco – Association of the Internet Industry in cooperation with the market and opinion research institute Civey*, 87.5 per cent of Germans do not yet use smart mobility services. In addition, 60.8 per cent of those surveyed reject the release of their mobility data.
Mobility industry as driver of digital identities
The experts present at the Mobility Talk agreed that both companies and citizens need to rethink their approach in order to achieve the mobility transition. The mobility landscape could be improved by sharing and networking data.
It was also discussed how access to different mobility offers could be simplified. A first step, for example, could be the use of a digital identity for mobility services. This would make the creation of numerous accounts with different mobility providers and services superfluous. With a digital identity, users could use services ranging from public transport to sharing offers to charging electric cars.
In order to establish the use of a digital identity, the mobility sector could be an enabler. Although there are exciting approaches and ideas on what such an implementation could look like, legal framework conditions and the question of a neutral body that would have to take on the realisation are the main hurdles here. All in all, many exciting impulses were shared at the Mobility Talk in Munich, which will enable and promote further exchange.
Further information on the context of the Mobility Talk
*The opinion research company Civey surveyed 2,500 people between 08 and 09.09.2022 on behalf of eco. The results are representative for the inhabitants of the Federal Republic of Germany from the age of 18. The statistical error of the overall results is 3.6 per cent.