Study
Security & Digital Identities
in a Digitalised World
Potentials and Obstacles in the Use of Digital Identities
Use of digital identities is growing by around 20 to 30 per cent annually
Three out of four companies see the positive influence of digital identities on business performance
E-government: majority of citizens surveyed (60 per cent) want more online services and a greater degree of user-friendliness from public authorities (76 per cent)
Universal digital identity is favoured above all by the majority of public authorities and companies
Electronic services based on a secure, single, digital identity are a core element of the future. This is the conclusion of the study "Security & Digital Identities in a Digitalised World", a joint study by eco - Association of the Internet Industry and techconsult.
The results indicate great potential for the future use of digital identities, both for digital business models and e-government services, but also highlight existing obstacles concerning legal issues and technical implementation.
"In order to fully capitalise on the potential of digital identities, however, all stakeholders must participate in a sovereign, secure and trustworthy European ecosystem for identities."

Prof. Dr. Norbert Pohlmann, eco Board Member for IT Security.
"Companies and public authorities should urgently examine the possibility of closing their own qualification gaps with the help of external providers."

Raphael Napieralski, Analyst at techconsult
Study based on the responses of:
300
Citizens
aged from 16 years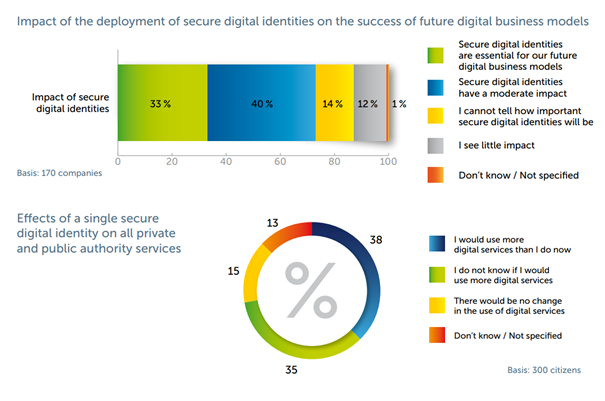 Great potential: Use of digital identities is growing by around 20 to 30 per cent annually
The ever-increasing digitalisation in all areas of life is making secure electronic identification indispensable vis-à-vis public authorities and private companies on the Internet. For instance, SIM cards can be activated at telecommunication providers via online ID, payments can be made via e-commerce, or security accounts can be opened at credit institutions via digital identity.
In the future, at least three quarters of the companies plan to use technologies for electronic identification. Around three out of four companies (73 per cent) already see a direct influence of digital identities on their business performance. Every third company surveyed even attests to the essential importance of secure digital identities for future digital business models.
Universal digital identity is favoured above all by the majority of public authorities and companies
Challenges: User trust, as well as technical and legal issues
In particular, the introduction of a central digital identity, as planned by the EU and other regions, is supported by many users. One third of citizens currently have to manage more than ten different user accounts for the use of Internet services. A single, universally usable digital identity could replace this sprawling system and enable people to use a single identity to access the widest possible range of private and public services. According to the study, around 35 per cent of respondents would like to see a central digital identity to replace the numerous user accounts. Nine out of ten of the public authorities surveyed and more than half (55 per cent) of the companies also would like to have such central identities.
In order for digital identities to be used by citizens, there are certain obstacles that need to be overcome. Above all, citizens regard a lack of data protection or data security as a bottleneck that hinders the use of digital identities. Of the citizens surveyed, 46 per cent have this as number one on their top three list. This is followed by a lack of trust in the technology and the services behind it (35 per cent).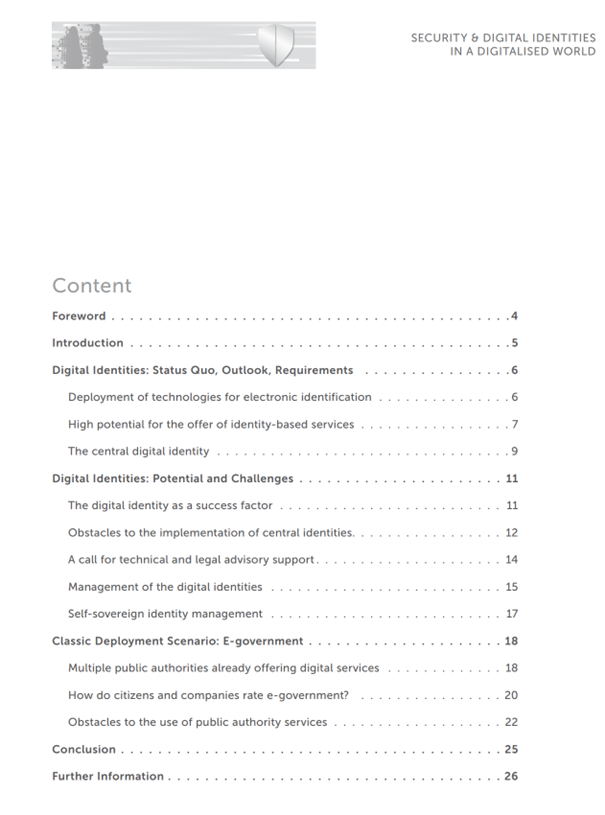 About eco
With over 1,000 member companies, eco is the largest Association of the Internet industry in Europe. Since 1995, eco has been instrumental in shaping the Internet, promoting new technologies, creating framework conditions and representing the interests of its members vis-à-vis politicians and in international bodies. The reliability and strengthening of the digital infrastructure, IT security and trust as well as ethically oriented digitalisation are focal points of the association's work. eco is committed to a free, technology-neutral and high-performance Internet.
About techconsult
techconsult GmbH has been in operation for 30 years as one of the established analyst firms in Central Europe. The strategy consultancy firm focuses primarily on the information and communication industry (ICT). Based on many years of both standard and individual analyses, techconsult has acquired a unique wealth of information in the German-speaking world, both in terms of continuity and depth of information. As such, it is an important consultancy partner for CXOs and for the IT industry in the spheres of product innovation, marketing strategies and sales development.
Avail of the study free-of-charge
Log in to our members+ portal and download the study free of charge. Don't have an account yet? Write to us: members@eco.de.
Enter your data and receive the study as a download by email.