GDPR@eco
Since 25 May 2018, the GDPR has been directly applicable. Learn more about this topic on our GDPR page.
The eco Association offers support
in compliance with European data protection law.
International companies are facing an uphill battle to ensure they are compliant with the forthcoming EU General Data Protection Regulation (GDPR).
Companies subject to GDPR need to be compliant by May 25th, 2018 to avoid fines up to 4% of the global annual turnover or 20 million Euros.
This law is not only relevant for European companies – it applies to any company that has customers within the EU, regardless of where you are based.
When it comes to data protection, you're not alone!
eco can provide the expert know-how that you need to ensure your processes are compliant and keep them that way, to train your staff, and to react effectively to security incidents.
eco can also act as the EU Representative for non-European companies that are required by law to appoint one.
eco offers support in:
Becoming compliant
Guidance to establish existing level of data protection in the company, from the perspective of processes, technical structure and data security
Risk assessment and prioritization of action to be taken
Drafting of the legally required record of processing activities
Establishing the Data Security Management System, including processes to ensure continued compliance
Acting as EU representative for international companies, where this is legally required
Supporting incident response in the case of data breaches
Acting as point of contact for data protection related enquiries
Maintaining the Data Security Management System
Providing remote training for your staff
This service is exclusively for eco members, and individual services or an all-round data protection package can be booked at special member prices.
Would you like to know more?
Do you have any questions?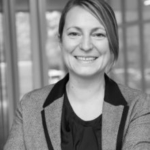 Clarissa Benner, LL.M.
Legal Department
+49 (221) 7000 48 – 0
legal(at)eco.de