85 per cent of German citizens are not using smart home solutions
Smart heating and smart thermostats are the most widely used smart home technologies in German households (8.2 per cent)
Energy savings potential of up to 20 per cent is possible through smart home technologies
Scarce energy resources, rising energy prices: More and more electricity and gas providers are massively increasing their prices and more and more households are facing challenges from the abhorrent costs. But given this fact, what can consumers do themselves to reduce consumption costs? Smart technologies such as intelligent heating thermostats, window contacts or power sockets can help to reduce the burden on the environment and the wallet. However, 85 per cent of German citizens are not using smart home solutions to reduce energy consumption and costs. At 8.2 per cent, smart solutions in the heating sector are those most frequently used in German households. This is the result of a survey of 2,500 people conducted by the opinion research institute Civey on behalf of eco – Association of the Internet Industry in mid-February 2023.1
"Smart buildings and smart homes can have a huge leverage effect on energy efficiency and CO2 savings. Smart home technologies alone can save up to 20 per cent of energy," says Alexander Rabe, Managing Director of the eco Association. More and more housing associations and cooperatives therefore introduced smart technologies as standard in order to upgrade their entire property in terms of energy. A study by Arthur D. Little commissioned by eco forecasts savings of up to 12 per cent or 92 terawatt hours for the entire building sector in 2026. This corresponds to a saving of 275 million tonnes of CO2 by 2026.2 
Identifying energy saving potential with smart meters
The German federal government is also driving forward the use of smart energy-saving aids with the Act on the Digitisation of the Energy Transition, for example through the successive mandatory use of intelligent electricity meters, so-called smart meters. Digital electricity meters create transparency on energy consumption and electricity prices via real-time data and provide grid operators with information on grid utilisation. "Smart meters help consumers to use energy cost-effectively and efficiently and to identify potential energy savings. Simply being more aware of one's own consumption will contribute to energy savings," Rabe emphasises. In addition, smart meter users will benefit from dynamic electricity tariffs in the future by purchasing electricity during cheaper periods with a high share of renewable energy generation.
Despite the advantages in terms of costs and energy efficiency, there are obviously still reservations about the use of smart home technologies in private households. The main reasons for this are concerns about data protection, IT security and feared high acquisition costs. IT security is essential when commissioning smart home solutions that are connected via the Internet. Passwords preset by the manufacturer should definitely be replaced and the WiFi router should comply with current encryption standards. Strong passwords should be at least eight characters long and contain upper and lower-case letters, numbers and special characters in random order.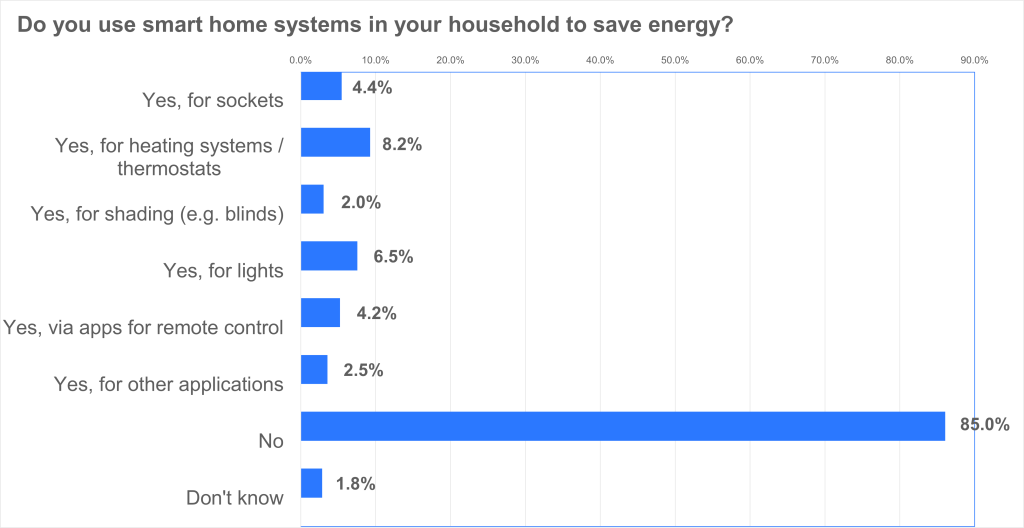 Further information on the topic of the Internet of Things (ioT) Survey results as a graphic for free editorial use:
Do you use smart home systems in your household to save energy?
1The opinion research company Civey surveyed 2500 1 people between 15 and 16 February 2023 on behalf of eco Association. The results are representative of the inhabitants of the FRG aged 18 and over. The statistical error of the overall results is 3.5 per cent.
2 Study "The Smart City Market in Germany, 2021-2026" by Arthur D. Little on behalf of the eco Association