61.9 per cent of Germans usually use at least one online service while on holiday.
Mobility data ecosystem is a prerequisite for sustainable mobility policy shift
Apps that combine different means of transport and data sources are only used by 7.2 percent
Book accommodation and flights on the Internet or let your mobile phone guide you to your holiday destination: Almost two out of three Germans (61.9 per cent) currently use online services that make it easier for them to prepare for their holidays and while on location. This is the result of a current representative population survey conducted by the opinion research company Civey on behalf of eco – Association of the Internet Industry among 2,500 respondents. Apps for route planning (43.3 per cent) and online booking portals for hotels or holiday flats (35.7 per cent) are particularly popular. More than one in four (27.4 per cent) are also guided by online reviews when choosing restaurants.
"Online services already help many people to spend a carefree and, above all, smooth Easter break are likely to become even more important in the future," says Oliver Süme, Chair of the Board at eco – Association of the Internet Industry. "In particular, offers that network different mobility platforms and recommend the most efficient route and the best possible means of transport on the basis of real-time data will not only increase travel comfort, but also contribute to a sustainable mobility policy shift," Süme continues. The prerequisite for this is a mobility ecosystem that enables the sovereign and secure exchange of data among all actors involved. Equally imperative are robust digital infrastructures for data processing and the trust and participation of citizens, emphasises Oliver Süme, Chair of the Board of the eco Association.
Mobility platforms contribute to a sustainable mobility transition
Sustainable and innovation-driven progress in the mobility sector is almost impossible without meaningful data and its availability and networking. The "Mobilithek" of the German Federal Ministry for Digital and Transport (BMDV) is a first step in the right direction to create mobility platforms that optimally manage traffic flows on the basis of data, for example on capacity utilisation and availability, and provide appropriate answers to increasing urbanisation, climate change, the sustainable use of resources and changing mobility needs. The German federal government would like to present the draft of a corresponding mobility data law at the end of 2023, and the first key points as early as this spring. It is intended to address the issues of data availability and data quality.
But so far, at 7.2 per cent, only a few Germans use such apps that integrate several means of transport – such as a ride service, local public transport and other mobility services. 38.1 per cent of all respondents do not use online services at all for their travel planning. The age group of 30 to 39-year-olds, on the other hand, is particularly digital, with 86.4 per cent using at least one of the online services surveyed while on holiday. 46.9 per cent of this age group uses search engines for flights, but only 15.8 per cent of those aged 50-64. In contrast, only one in five (21 per cent) use public transport apps on holiday.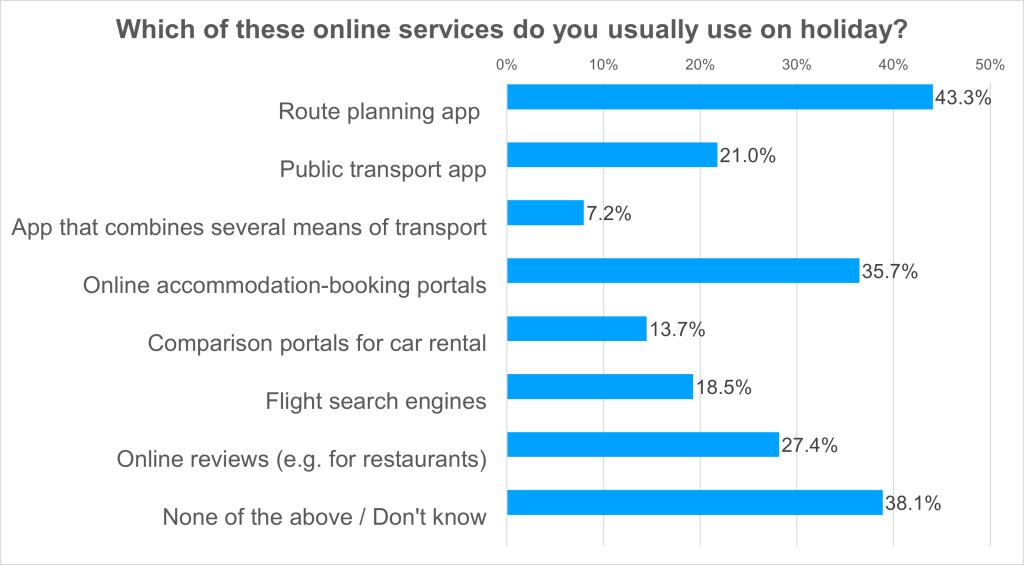 * The opinion research company Civey surveyed 2500 people between 15 and 29 February 03 on behalf of the eco Association. The results are representative of the German population aged 18 and over. The statistical error of the overall results is 3.4 per cent.