The year 2023 will be the year of artificial intelligence (AI). The hype around ChatGPT, the AI that can write essays, articles or texts within seconds using just a few lines of input, continues unabated. Voice assistants also use the potential of AI and are constantly developing to provide users with even better results. AI has become applicable and is no longer rocket science and is finding its way into more and more areas of everyday life. The practical workshop "AI – for Smart Cities", organised by the ASTRID Innovation Hub together with WOBCOM GmbH, NVIDIA and eco – Association of the Internet Industry in Wolfsburg's Nordkopf Tower (WNT), indicated how important the topic of AI is for cities and municipalities, especially in the Smart City context.
The aim of the workshop was to raise awareness of the topic of AI, to talk about application-related digital – AI-enriched applications and to identify concrete applications and test them for their implementation and feasibility. The focus was clearly on applications in the urban environment and potential future Smart City services.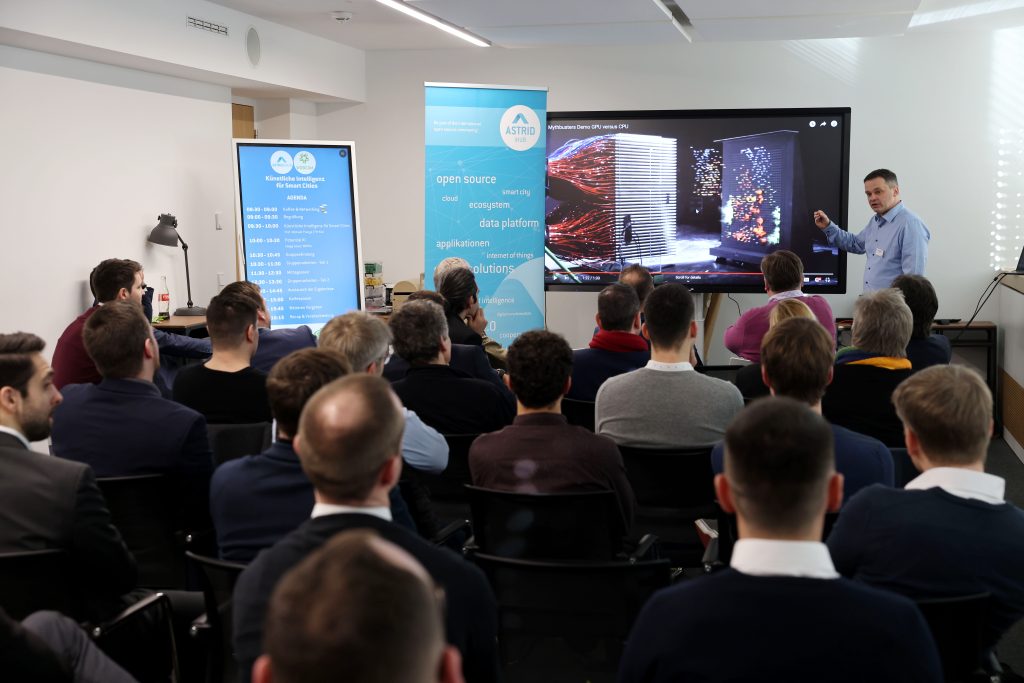 Potentials of AI
To start off the workshop and to create a basis for all participants, Prof. Dr.-Ing. Michael Prange from Kiel University of Applied Sciences gave an introductory lecture on "Artificial Intelligence for Smart Cities". He explained that the application of AI is always about digitalisation and digital transformation in order to optimise processes and develop and implement new digital business models. The aim is to draw benefits and insights from the data generated. Even though AI cannot solve all problems, it will play a significant role in the future of Smart Cities, according to Prof. Dr.-Ing. Prange in his lecture. It makes sense to be able to make certain predictions on the basis of data and its analysis. In this way, data on the movement of event visitors can be used to plan mobility services for large events better. In addition, such data could also be collected in real-time and direct recommendations could be made to visitors via apps.
Helge Gose, Solution Architect at NVIDIA, followed with an insight into the potential of AI. He showed various examples of how AI can be used in video recording and also in audio. After the introductory presentations, the participants worked in small groups to identify problems and challenges in the urban environment and tried to find AI-based solutions. The urban challenges mentioned included the administration and digitalisation of various processes, parking search traffic, the use of traffic spaces by different road users, energy efficiency of buildings and healthcare in the Smart City. The participants developed various solutions that could be implemented based on data and with the help of AI.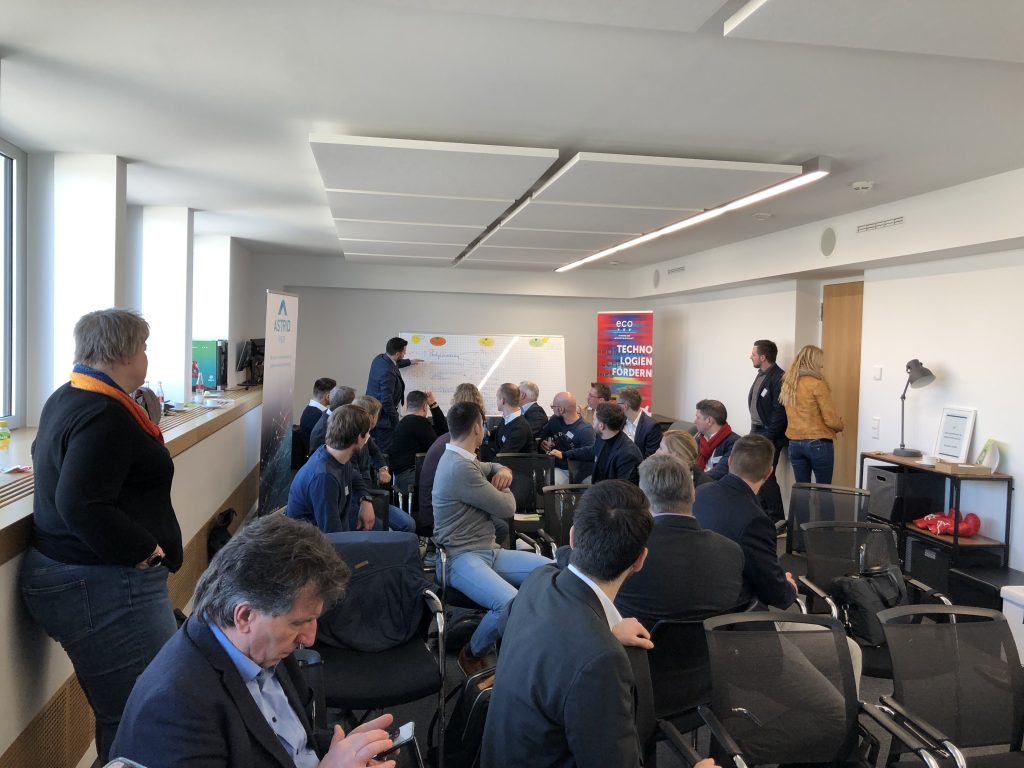 Identify AI-based solutions
"Today, we have rethought mobility and digitalisation projects. We are proud to be able to offer participants an AI workshop in Wolfsburg for the first time. I am very pleased that our offer has met with such great interest and that we have developed an important keystone for an AI-supported chatbot of the administration and solution approaches for traffic and parking space planning," says Giovanni Coppa, coordinator of ASTRID iHUB and eco Mobility Competence Group Leader.
In conclusion, Prof. Dr.-Ing. Prange and Helge Gose presented the solutions with regard to scientific aspects and their feasibility with AI.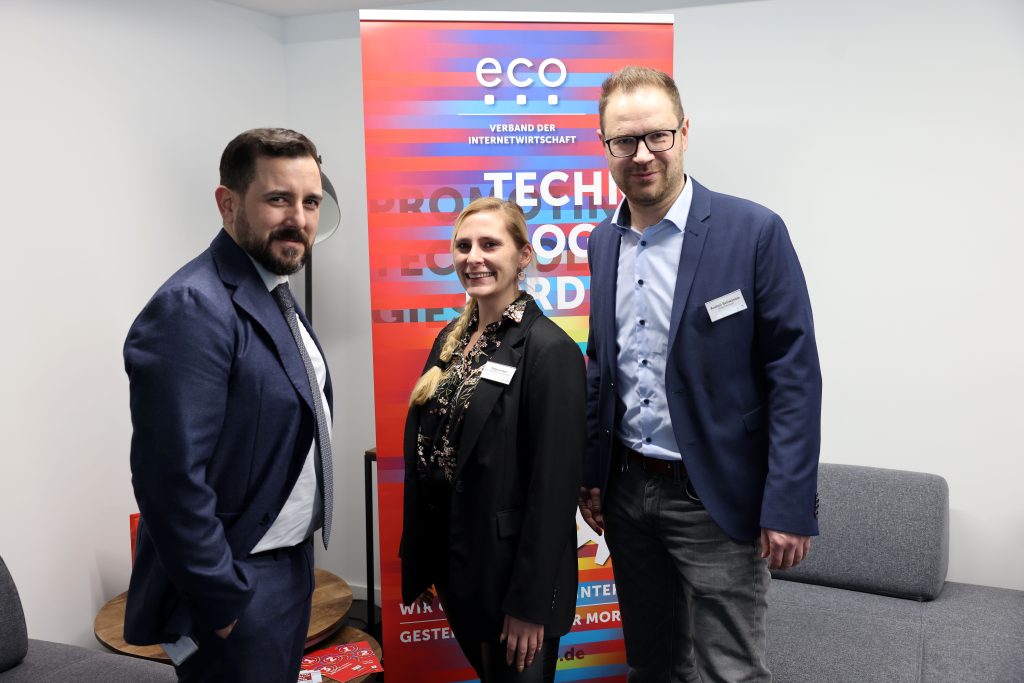 The workshop revealed that different cities and municipalities face very similar challenges. Aensible and good solutions for some of these issues that need to be implemented already exist, and other challenges still need to be solved in the future – with artificial intelligence. Overall, the participants agreed that they did not want to miss out on the development of artificial intelligence. For years, one has seen the trend towards ever-larger AI models. The first steps often originate from abroad.
If future AI offerings are also to emerge from Germany, projects must be tackled now. The aim is to establish independent and competitive AI ecosystems in cities. Through the cooperation of science, municipalities and startups, projects can be implemented in the long term.