How do you become future-proof as an employer? On 23 August 2023, the New Work Competence Group discovered solutions to this question at the summer event in the Microsoft office in Cologne.
At the beginning of the event, Christoph Stähn, Head of the Microsoft's Cologne branch, shared his experiences and discussed how the group has adapted to the digital and spatial aspects of tomorrow's work environment. Lucia Falkenberg, CPO and Spokesperson for the New Work Competence Group at eco – Association of the Internet Industry, moderated the subsequent panel discussion featuring Kiki Radicke from Adacor, Jan Schuettler from TÜV Rheinland and Lukas von der Heide from NELEX. During this discussion, they presented best practices and practical examples from the area of New Work. The afternoon rounded off with a tour of Microsoft's offices in Cologne's Rheinau Harbour.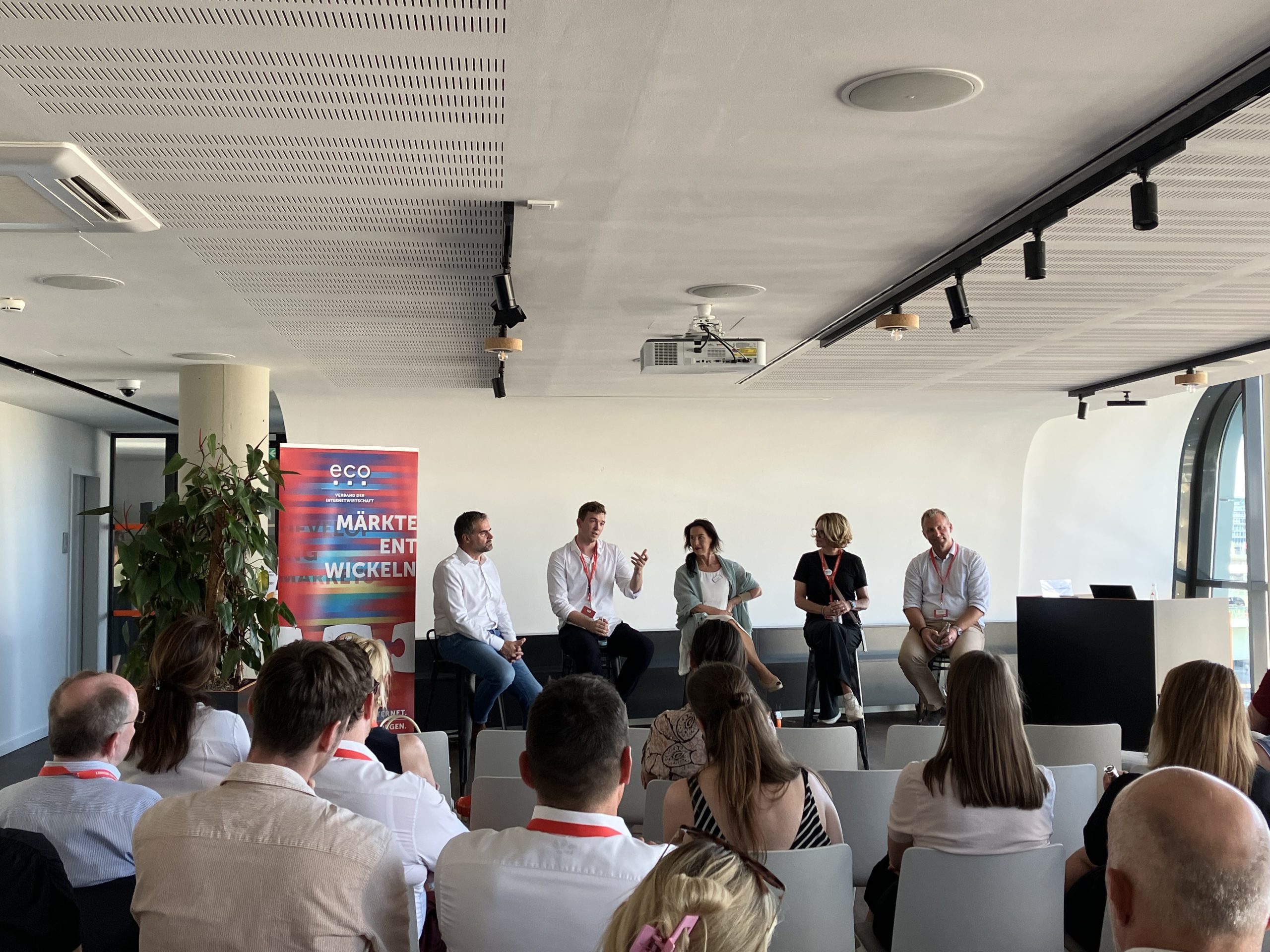 Numerous companies are confronted with the challenge of recruiting new skilled workers and retaining current employees. In the dynamic discussion at the event, the eco Association was able to identify diverse approaches that will create attractive work places in the future:
New Work entails increased freedom and flexibility. Use digital tools and infrastructures to give your employees access to the hybrid working world. Collaborative working environments establish transparent processes, while individual working models in terms of both working hours and location herald an improved work-life balance.
A great work culture is increasingly vital. Cultivate a culture of open communication at eye level, align on shared goals and establish a meaningful purpose for work. Share your objectives and visions allowing your employees to follow the same course.
Promote diversity and appeal to all potential applicants – irrespective of age, gender and background. Mixed and diverse teams create an ideal environment for creativity and everyone benefits from the variety of experiences.
Be generous: With appreciation, compensation in line with the market and modern benefits, such as company discounts at fitness studios, job bikes or public transport tickets as well as day-care allowances.
Invest in office concepts that respond to various needs and working styles – fostering a culture of presence rather than compulsory attendance. Ask your employees which working models suit their lives and discuss concrete solutions together.
Prepare your employees for the future through individual personnel development and targeted further training. Share responsibilities in order to support your employees and to be able to manage the growing dynamics and increasing complexity in the workplace together.
Take a critical look at what makes you unique as an employer and communicate these qualities. It is vital to have a constant exchange with your employees for receiving suggestions and feedback.