At the cross-competence group event titled to "IoT Competence Group/Networks CG: Digital Infrastructure as the Basis for Smart Home Applications", jointly organised with Huawei Germany, eco engaged in discussions with various experts from the IoT and network fields, regarding the importance of digital infrastructure and its necessity for the smart home. It became evident that expanding the Internet infrastructure is essential to enable the implementation of smart applications and ensure their seamless operation. Additionally, there were discussions about the need for more standardisation, particularly in the area of interconnection, to facilitate the use of smart home solutions across manufacturers. MATTER has already achieved a significant milestone in this regard. Our experts provided a variety of perspectives on this important topic.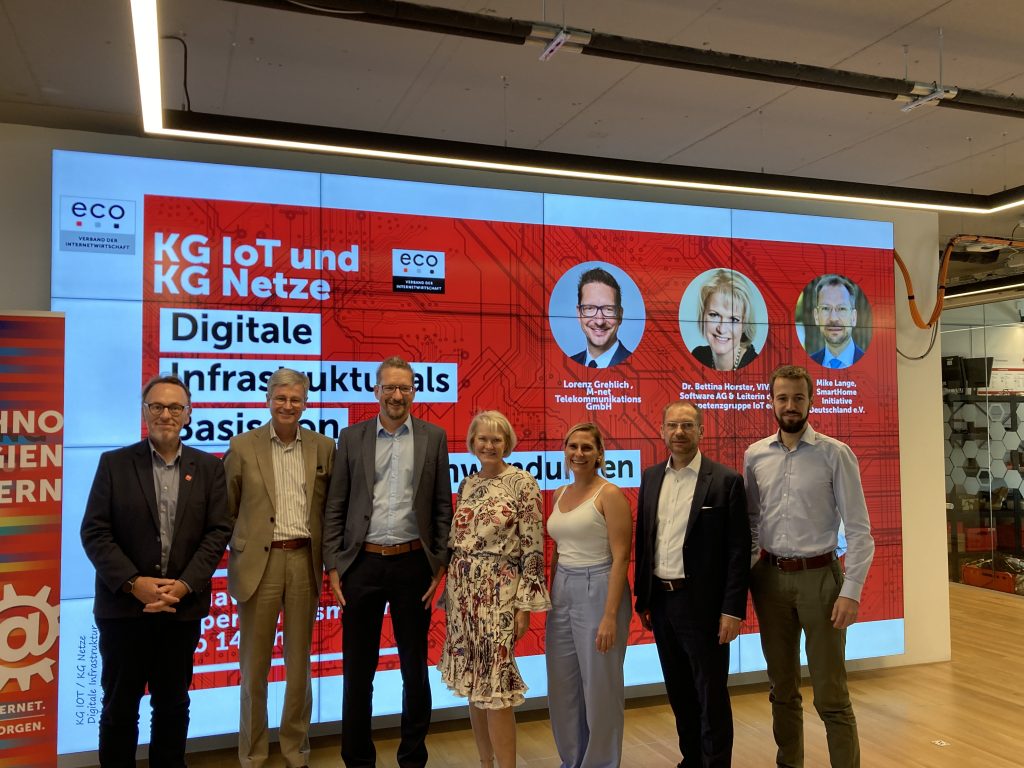 Smart tracking, smart metering, smart locks, smart lighting, e-health – IoT in the smart home is already making intelligent building automation (smart home & smart buildings) a reality in numerous application areas of everyday life. The foundation for smart applications is a stable digital infrastructure, from network infrastructure to IoT and data centres.
By 2020, 7 out of 10 people were already using a digital end device from the world of IoT. Access to broadband connections in private households increased from 70% in 2010 to 91.4% in 2022, according to the Federal Statistical Office of Germany (DESTATIS 2010;2020;2022).
In the 21st century, digitalisation and interconnection are terms that are almost inconceivable without. The expansion, constant improvement and renewal of infrastructures are becoming inevitable. As a result, automation and networking with the help of intelligent residential buildings and cities are taking on a whole new perspective.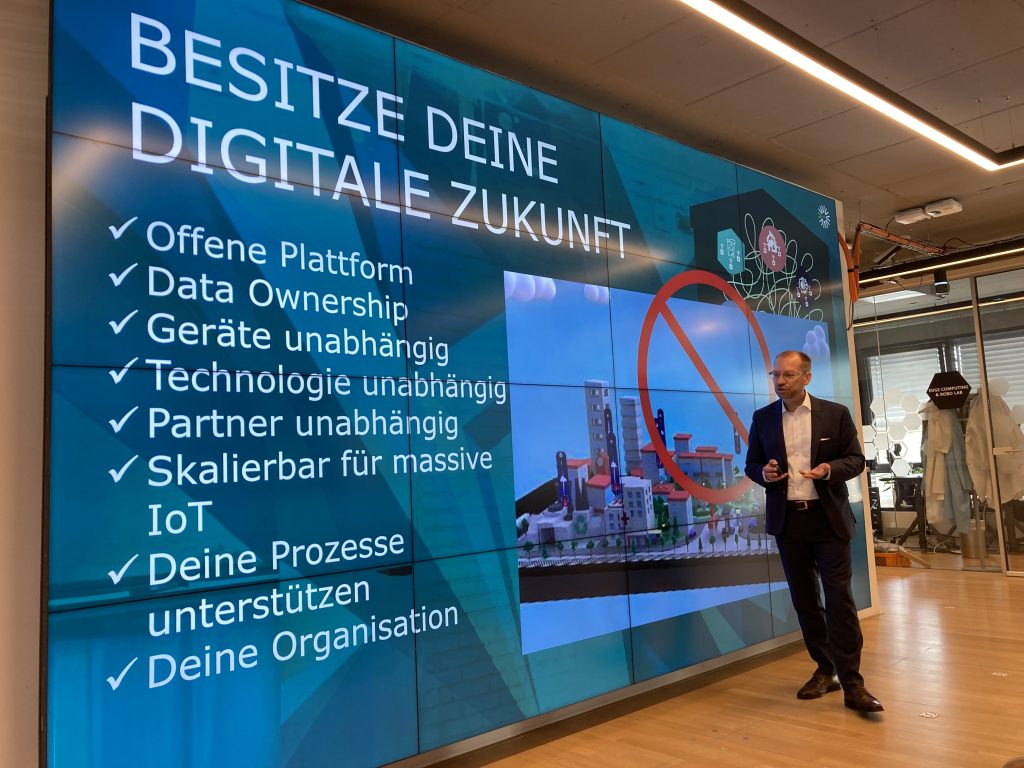 Smart Home – Current situation
In the smart home sector, there are many connectivity technologies, each of which is used for different applications. Connectivity is a crucial factor for the realisation of IoT projects and forms the connecting piece of the IoT architecture between hardware and the IoT platform. Communication in the IoT should be reliable, stable and secure. There are various transmission standards that can be used for different applications, such as
ZigBee
Z-Wave
WiFi
BlueTooth5
Narrowband IoT
LoRaWAN
Thread
KNX
However, in extensive installations, heterogeneity, seclusion and different communication protocols often complicate the interaction of IoT solutions in the smart home.
In his keynote speech, Mike Lange, Board Member of the Smart Home Initiative Deutschland, gave an overview of the various connectivity options and technologies in the smart home sector. As different technologies have proliferated over the years, there is a clear focus on the implementation of a connectivity standard. Although some technologies have become more established than others, there is still a strong desire for standardisation on the part of both manufacturers and users.
The interoperability concept of the MATTER Alliance (formerly CHIP, Connected Home over IP), which is led by the Connectivity Standards Alliance (formerly ZigBee Alliance), is particularly promising. Various global players such as Amazon, Apple, Google and Huawei are members.
MATTER Standard
MATTER wants to revolutionise the smart home. A uniform standard should finally eliminate all compatibility problems and ensure secure and smooth connections. MATTER is thus intended to create a common basis for smart home products. This means that one and the same device will work in different systems – as long as they comply with the new connection standard. A MATTER function called "Multi Admin" even provides for simultaneous operation in several smart home systems. In addition to the pure communication between devices, MATTER defines further framework conditions. Therefore, the devices communicate at home via local network connections. The control commands of MATTER do not have to run over the Internet. However, the device manufacturers can still have their own cloud service. The app of the manufacturer is then responsible for this.
Although MATTER got off to a strong start when it was introduced, its standardisation has stalled somewhat at the moment. MATTER has the potential to become a uniform standard, but it will take time for it to become widespread.
According to Lange, the smart home market is growing by 15 % annually, with one of the driving areas currently being "elderly care" and staying in one's own home in old age, which the IoT can enable with various smart home applications.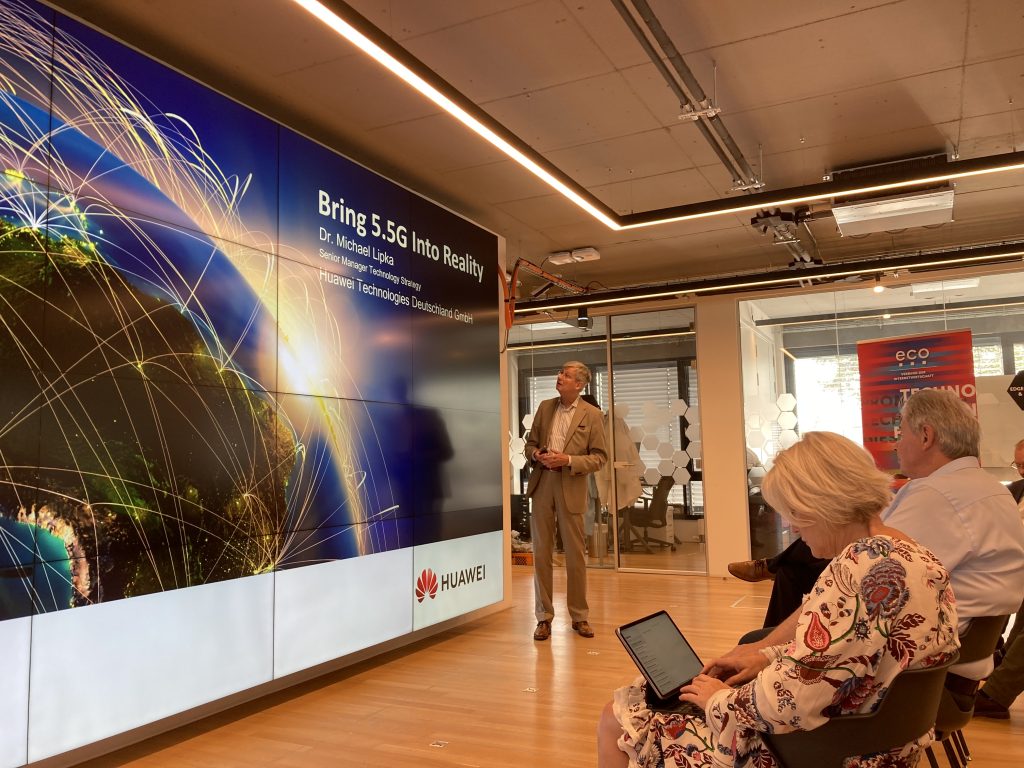 5.5G can further revolutionise deployment scenarios
In his speech, Dr Michael Lipka, Senior Manager Technology Strategy at Huawei Technologies Deutschland GmbH, pleaded for making mobile communications more future-proof. With 5.5G (or 5G advanced), we are on the right path and are taking the step towards 6G. We are currently in a transition towards real-time communication. Here, the area of Network-as-a-Service can act as a driver for the expansion of mobile communications, says Lipka.
With the availability of 5G, a change has already taken place; the main users are no longer just end consumers, but now mainly industry, which uses 5G technology in manufacturing or logistics. The use of 5.5G with 10Gbps / downlink and 1Gbps / uplink enables many more application scenarios. In addition, the costs for this are also significantly lower. The advantages of 5.5G for industry speak for themselves:
10x lower bit costs for service delivery
Expansion of the deployment scenarios
Deterministic Experience
Building automation and smart home applications will also benefit from this, as will the healthcare sector, autonomous driving, and many others.
LoRaWAN – Possible applications 
In IoT applications, there is justification for each of the available communication technologies and applications that are designed for these technologies. Especially in building automation, LoRaWAN has proven to be a useful communication technology. This technology offers several advantages in the area of smart building and smart home: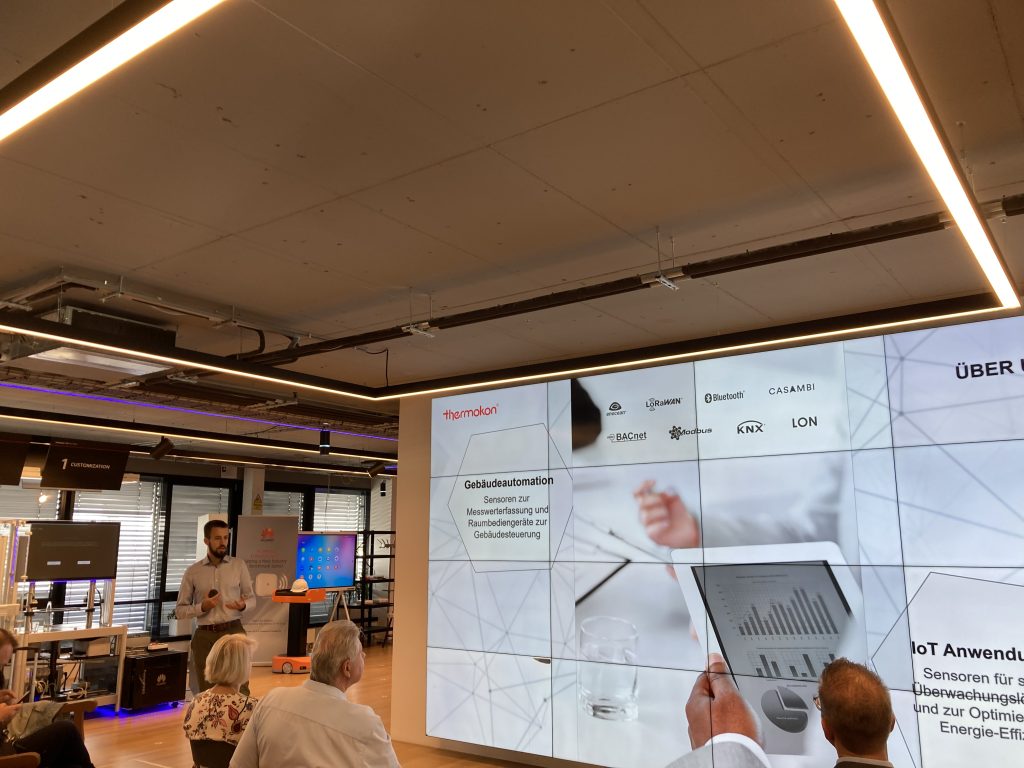 Application
Great variety
High radio range
Open standard
Excellently suited for retrofit requirements
Subsequent expandability
Sustainability
Adaptation of new applications
Preparation for legal obligations to provide evidence, etc.
Since many devices can be retrofitted with the help of LoRaWAN and the implementation hurdle is quite low, the technology can be an enabler for smart buildings and smart homes.
Smart home from a carrier perspective
From a carrier perspective, the challenges to be solved in the smart home sector are completely different, says Lorenz Grehlich, Head of Planning and Implementation at Mnet Telekommunikations GmbH. New smart home functions or devices may require the latest firmware functions or FRITZ!Box models. Immediate testing and rapid rollout of new versions are therefore essential for operators. This is the only way to ensure the smooth operation of smart home systems. Another challenge is the transition from IPV4 to IPV6. Network operators need to address potential compatibility issues, especially during the transition period.
IPV4 vs. IPV6
IPv4 has a theoretical limit of 4.3 billion addresses, which was more than enough in 1980. As the Internet grew, it quickly ran out of addresses, specifically in today's era of smartphones and IoT devices. While temporary workarounds were implemented to address the problem, a permanent solution was developed simultaneously. IPv6 was designed to eventually solve these capacity problems, as IPv4 could no longer handle the growing volumes of data on its own.
While IPv4, along with its newer version, coexists on the Internet, it is expected that IPv6 will eventually become the predominant protocol. Given the high cost and time required to replace older IPv4 devices, the transition to IPv6 is taking place gradually through the replacement of outdated IPv4 hardware with new ones.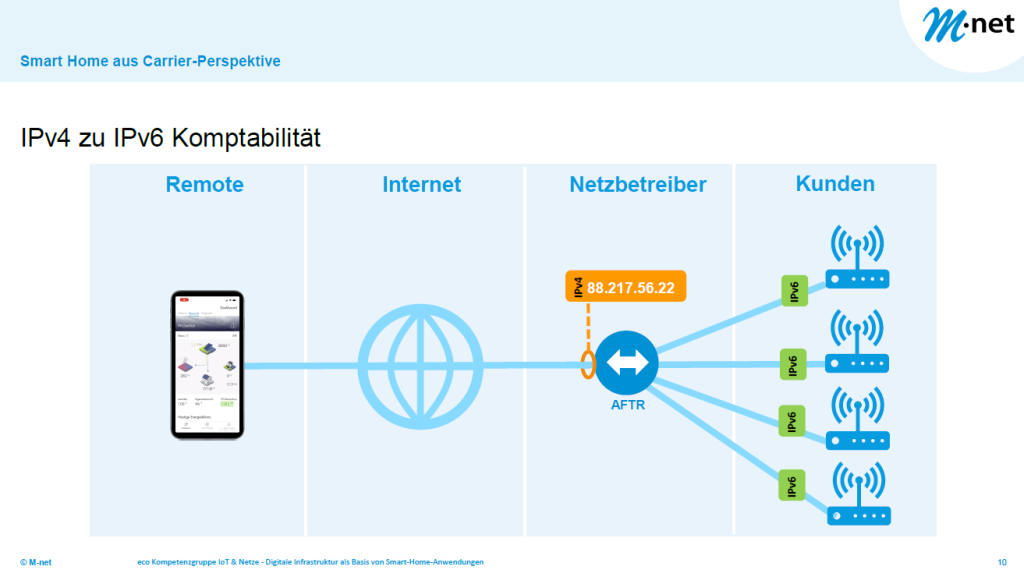 IPv6 has not only increased the supply of IP addresses, but also addressed the many shortcomings of IPv4. With IPv6, devices can remain connected to multiple networks simultaneously. This is made possible by the interoperability and configuration options that allow the hardware to automatically assign multiple IP addresses to the same device.
The complete switch to IPV6 will indeed occur, but it will take time for older technologies to phase out, and the transition will never happen as rapidly as its proponents may wish. A permanent migration to IPv6 is inevitable, but it will span decades. Consequently, the shift from IPv4 to IPv6 is progressing at a snail's space. Until then, network operators are called upon to work around and solve compatability issues.
FTTH and FTTR
Another challenge lies in the expansion of fibre optics, which is progressing steadily, but often ends at the building (FTTB: "Fibre-To-The-Building"). With this type of connection, the fibre optic line ends inside the building, usually in the basement. Although the fibre optic cables are used from the connection point to the house, the signal is then transmitted via copper cable inside the house. This results in a reduction in bandwidth because neighbouring copper lines can interfere with each other during transmission to individual households, causing the loss of frequency ranges. This often leads to complications when there is a high load in apartment buildings.
FTTH, "Fibre-To-The-Home" therefore forms the next step in fibre rollout. FTTH is usually completed via the operator's fibre to the home without the need for an indoor network. The users then have to set up the indoor network with the help of WiFi routers. FTTR, "Fibre-To-The-Room" is the extension of the FTTH-based home network and is a new internal network technology based on fibre optic communication. Compared to traditional network technologies and FTTH, the FTTR solution provides true gigabit bandwidth to the room and can significantly enhance smart home solutions and enable application extensions.
In order to meet the demands of future high-bandwidth services, this technological enhancement in fibre rollout makes sense. This is because fibre is flexible, non-oxidising, non-corrosive and immune to electromagnetic interference, and the bandwidth can grow to over 100 Gbit/s.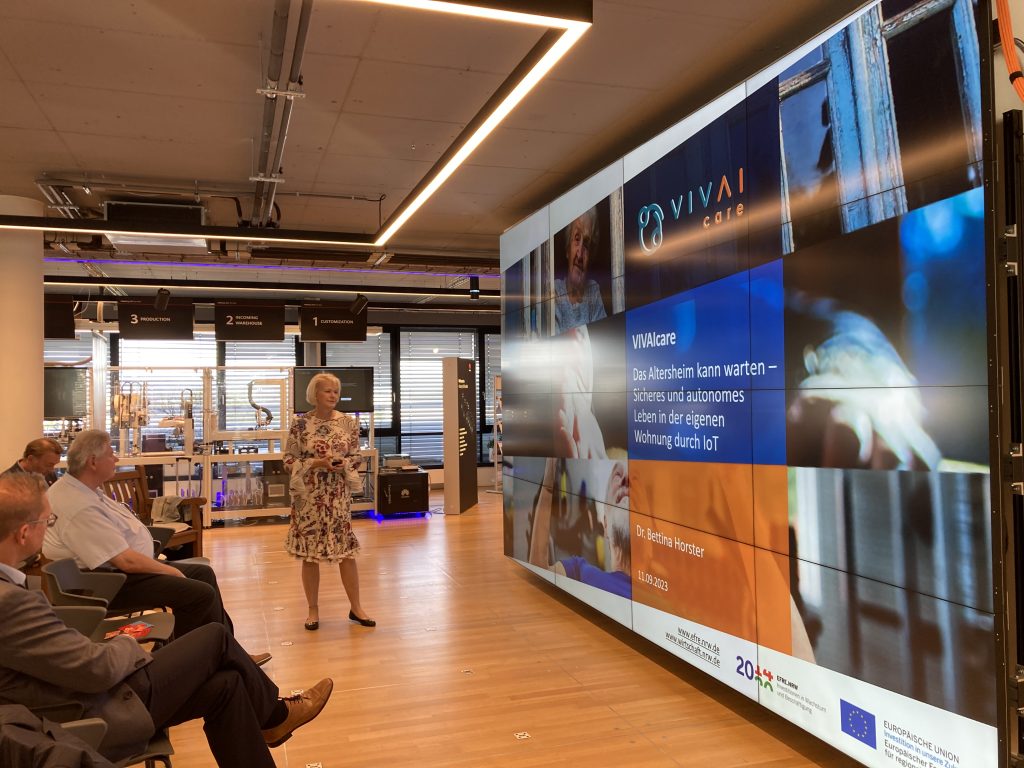 Connectivity in practice
In practice, however, the multitude of connectivity options also poses challenges for manufacturers. Not every innovative standard is suitable for every application, practical or available for every device. Compatibility issues are prevalent in many cases, which is why devices often have to be equipped with several transmission technologies. This is how Dr Bettina Horster, CEO of VIVAI Software AG and Head of eco IoT Competence Group, describes the current situation in her presentation. In her view, 5G and 6G technologies could offer solutions to these problems.
On the manufacturing side, there is a demand for simplification and therefore for simple and uniform connectivity options. A single standard such as MATTER makes sense, given the different requirements in different sectors.