Learn wherever and whenever you want
Industry 4.0, AI, Cloud, cyber security, DevOps, smart IoT, Big Data and energy efficiency in data centers: the core issues of digital transformation are broad and increasingly important for companies that now have to deal with digital trends to remain competitive.
eco – Association of the Internet Industry is Europe's largest Internet association. We support you in keeping your knowledge up to date flexibly and from anywhere: High quality, compact and uncomplicated – from experts for experts!
The eco Academy offers free webinars on relevant topics of the digital world. Take advantage of the opportunity to combine your further education better with your professional and private interests and register for our webinars.
What do you need to participate?
As soon as you have registered for a webinar, you will receive a confirmation email with further information. Basically, all you need is a
Computer or laptop
Internet connection
Headset
Further information is available here.
How can you dial in?
There are several ways to join our webinars! You can use the desktop app on your Window PC or mac computer, join using a Chrome browser, or join on the go using your iOS, Android or Windows mobile device.
Detailed information on how you can join a webinar can be found here.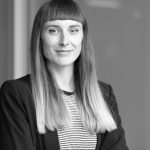 Emma Wehrwein
eco contact person for New Work
+49 221 700 048 142
emma.wehrwein(at)eco.de
Unfortunately no results.