German based gTLDs and their activity – Volume 1
Now that the New gTLD Program has been active for over a year, there have been 45 Geographic gTLDs delegated in the root by ICANN. 34 of these are "City" designated gTLDs with nine more classified as "Regions". DotBERLIN leads the way in total second-level domain (SLD) names according to the zonefile with over 150.000 registrations.
Mentioned previously in the domain industry as to the high total, many .berlin names were offered to Registrants for free through varying promotions. eco holds no opinion as to this promotional tactic other than to note that it explains how it contains more registrations than other geographic strings. Rounding out a top three, the next largest geographic gTLDs in terms of zonefile counts are .nyc and .london at 75.000 and 59.000 respectively. While total registrations do not provide a complete measure of successes, it is still an important indicator. Updated daily charts of the top five Geographic gTLDs can be found on our dashboard page, which track pre-2012 and post-2012 gTLDs activity. Total geographic names registered week ending 25 April 2015 was just above 573.000 or almost 12% of all New gTLDs registered. So, where do the German based geographic names compare against the others?
Week ending 25 April, there were just above 252.000 names listed in the zone, for the eight delegated gTLDs representing cities and states within Germany. The chart below represents when each gTLD launched along with their zonefile performance for the last year.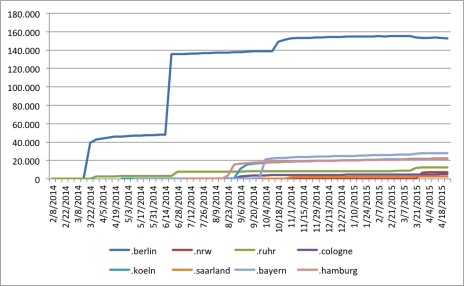 While the total German based geographic names only represent half of one percent of all gTLD registrations, they do represent 44% of the total delegated geographic based gTLDs. Not knowing the Registry Operator's exact business plans and recognizing that expansion in the gTLD space is a multi-year endeavor, these gTLDs seem to have had a strong start for year one operations. So, what does the future hold for geographic and in particular German based gTLDs?
No doubt that geographic based gTLDs define a specific market in which they serve and as they evolve over the years with increased penetration, they are sure to become much more familiar to Internet users. For most, you can surmise that only potential Registrants of that area are most likely to register a name where they reside and then some smaller population of that set will actually register a name. It is far too early to understand what take-up rates will be, but the following list begins to describe the potential population for each of the TLDs with some overlap that is likely to occur:
| | | |
| --- | --- | --- |
| STRING | TYPE | POPULATION |
| .berlin | City | 3.460.725 |
| .hamburg | City | 1.786.448 |
| .koeln | City | 1.007.119 |
| .cologne | City | 1.007.119 |
| .bayern | State | 12.604.244 |
| .nrw | State | 17.571.856 |
| .ruhr | State | 8.572.745 |
| .saarland | State | 990.718 |
Registration policies, such as open vs. restricted, can also affect overall registration numbers. In some cases, geographic based gTLDs have local presence requirements to register a name. However, this attribute is less likely to apply to geographic gTLDs as it does to other generic gTLDs given the finite markets they serve. The links below will take you to the respective Registry Operator's gTLD site for further information on how to register names and which Registrar partners they have relationships with.
Each of these gTLDs is delegated in the primary root of the DNS via IANA, which is an acronym for Internet Assigned Numbers Authority managed by ICANN. If you are curious to see how these German based geographic gTLDs are listed in the IANA database, check out their TLD records as maintained by IANA.org:
Because these companies operate a part of the DNS root, ICANN ensures only qualified and vetted organizations operate their TLD based on the latest policies and contracts that govern the Internet. Registry Operations is no easy task and virtually all applicants of new gTLDs have outsourced the technical back-end Registry Operations to qualified Registry Service Providers (RSPs). The following gTLDs have selected the following RSPs:
| | |
| --- | --- |
| STRING | RSP |
| .berlin | TLD-Box Registrydienstleistungen GmbH |
| .hamburg | TLD-Box Registrydienstleistungen GmbH |
| .koeln | Knipp Medien und Kommunikation GmbH |
| .cologne | Knipp Medien und Kommunikation GmbH |
| .bayern | Minds+Machines Group Limited |
| .nrw | Knipp Medien und Kommunikation GmbH |
| .ruhr | Knipp Medien und Kommunikation GmbH |
| .saarland | KS Registry |
This blog post begins a series of articles that will track German based gTLDs and their activity. Future posts will not only include updates on the geographic based gTLDs, but brands and generics will also be included.