Around a quarter of respondents say the teaching of digital skills in schools has deteriorated in the last three years
Girls' Day and Boys' Day: Lack of digital education broadens the skills gap in the long term
eco's Managing Director Alexander Rabe: German education system needs fundamental update
Digitalisation is affecting more and more areas of life, but the corresponding skills tend to be imparted less and less at school. According to a representative survey conducted by the opinion research institute Civey on behalf of eco – Association of the Internet Industry, 23.9 per cent of respondents say that the teaching of digital skills in schools has actually deteriorated over the last three years. Only 18.7 per cent note an improvement in the teaching of digital skills over the last three years. 34.6 per cent see no change.
While many jobs became digitalised in the Covid-19 pandemic, this development has largely bypassed many schools. For example, the necessary digital infrastructures such as broadband access and WiFi are still often lacking. The technical equipment with end devices and the corresponding know-how, as well as regular further training and the establishment of reliable learning platforms to assure participation and involvement in digital education have barely improved in the last three years.
An update for the education system is called for
"The school system in Germany needs a fundamental update. Digital education is the focal task for the future in order to be able to shape the digital transformation of the economy and society sovereignly. Access to digital education at all levels of the education system and during all phases of the educational pathway is also a key prerequisite for the successful digitalisation of the world of work and, ultimately, Germany's competitiveness," states eco's Managing Director Alexander Rabe. "In order to secure the innovative strength of the German economy and the supply of suitable skilled workers in the long term, it is not only necessary to teach IT skills and the basics of computer science across the board, but also to place the ability to make judgements and resolve issues in the focus of education policy efforts and thus also ensure more educational equity."
The education of children and the young generation must include the principles of programming as well as the meaning and function of algorithms and data literacy. Computer science must become a compulsory subject in the curricula of all general education schools. In addition, didactic concepts of informatics and digital education must find their way into all areas of society, so that responsible and ethically justifiable decisions in dealing with digital technologies are warranted.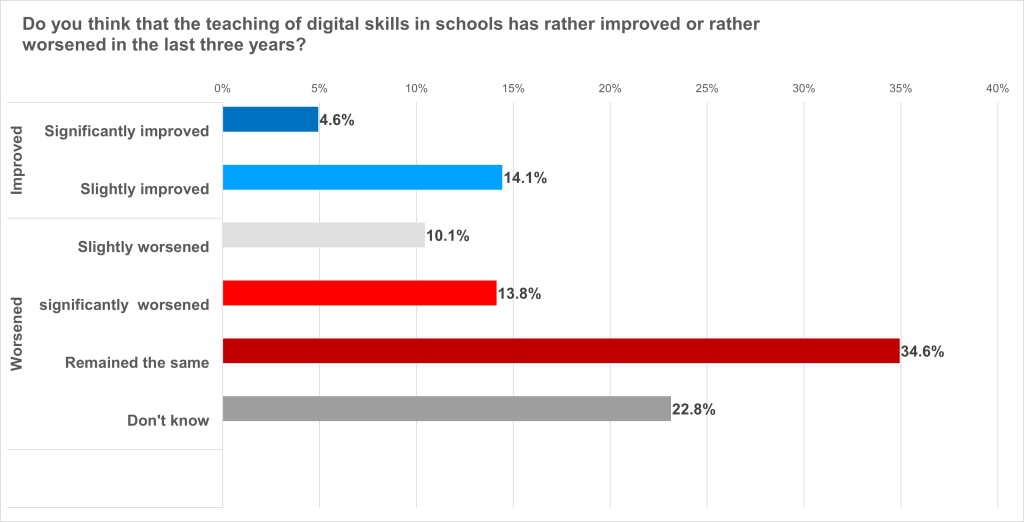 * The opinion research company Civey surveyed 2,500 people in Germany over the age of 18 from 29.03.-30.03.2023 on behalf of eco. The statistical error of the overall results is 3.4 per cent.